NANAIMO KIDS ACTIVITIES
Nanaimo is full of things for the young and young at heart to do. Whether it's an indoor attraction or playing in our great outdoors, you're kids will leave our community with many fond memories.
TOP NANAIMO OUTDOOR KIDS ACTIVITIES


NEWCASTLE ISLAND PROVINCIAL PARK Take a ferry (summer months) to Newcastle and explore our mining history, play on the playground, beachcomb, hike around the island or swim in Kanaka Bay. Ferry leaves from in front of the playground in Maffeo-Sutton park.

Newcastle Island is a great place for kids. There is something for everyone. You don't need to worry about traffic or losing your children. Take a bocci ball set and play on the huge grassy areas. A small restaurant serves lunchs, drinks and ice cream.

HARBOURFRONT WALKWAY Something the whole family can do. Watch the ferries, sailboats, fish boats and others come and go. Floatplanes taking off, seals popping their heads up and a good lick of bubblegum ice cream. Perfect. Pioneer Plaza on the waterfront.
PIPERS LAGOON PARK One of the best parks in town. Skip rocks from the beach, climb a mountain, watch the lagoon rise and fall with the tides, go for a swim and take a hike through a Garry Oak forest. Or watch the scuba divers jump from their boats as they search for wolf eels. Hugely popular park with picnic ground and public washrooms.
FISHING AND CRABBING PIER Just in front of Swy-a-Lana lagoon is a long fishing pier where locals go to catch a bit of crab or do some fishing. You can watch as they tie a piece of chicken or salmon head into the trap and then lower it to the bottom of the Harbour. But they have to watch for the seals who will try to steal their bait. While you're there have a walk along the cement pools at the mouth of the Lagoon. You can see lots of little crabs and even grab onto some bull kelp.
NOON CANNON FIRING AT THE BASTION Every day in the summer months, at the stroke of noon, one of the cannons at the Bastion are fired.

A great local tradition. The cannon is really discharged and the boom is very loud, so loud you hear it through out town. Best to keep smaller child further away. Costumed interpreters provide a historical context to the origins of the Bastion. Go on, ask one of the interpreters if you can light the cannon! Makes for a memorable part of your holiday.

BUNGEE JUMPING Twelve yet? If so you can go bungee jumping or if you're younger you can watch those wacky guys plunge off a bridge dip their head in the Nanaimo River! They built a bridge over the Nanaimo River and you can plunge 44 metres or 143 ft down and spring right back up again. Ranked #19 in Canada's Top 100 Trips (National Post, January 7, 2006).
GO SWIMMING You have choices in Nanaimo. Go for a dip in the ocean at Departure Bay beach. Play at the waterpark across the street. Or swim in the lake at Long Lake, Westwood Lake or Brannen Lake. Either way, a great way to cool off.
TOP NANAIMO INDOOR KIDS ACTIVITIES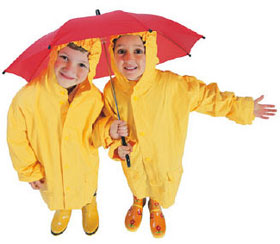 Raining outside? Here are a few popular ideas for those days when they just can't be outside.
NANAIMO AQUATIC AND LEISURE CENTRE This has got to be one of the best leisure centres in North America! Three waterslides, wave pool, beach, lazy river, fish boat with water jets and falls and a 50 metre pool with diving boards. For the adults there is a hot tub, steam room and dry sauna. You're going to love it. 741 3rd Street 755-7575.

The Aquatic Centre is very popular, especially with the school groups. Friday during school hours can be very busy and perhaps a time to be avoided. There is a family changeroom with private shower rooms and changing stalls. Pick up your locker tokens at the reception desk. The pool has a loads of water toys and even life jackets for those that are still learning to swim. Try the green waterslide if you're tall enough: very fast and scary!
SWY-A-LANA PARK SEASIDE PLAYGROUND On the waterfront in Maffeo-Sutton park at the corner of Comox Street and Terminal Avenue. A fenced playground full of swings, ropes, twirly ride, slides and lots of climbing structures. Kids love it. Public washrooms are at the park entrance and food vendors during daylight hours.
DINGHY DOCK FLOATING PUB AND RESTAURANT Imagine taking a wee boat over to a floating restaurant. A perennial favourite. The Protection Island ferry leaves at :10 past the hour at the last dock space in the Boat Basin across from the Port Theatre on Front Street. 8 Pirates Lane, Protection Island, 753-2373.

A kid favourite. There are two parts to the restaurant. An indoor section out of the sun, the sensible choice for those with sunburnable skin. But where your kids want to go is outside on the floating barge where they can fish! There are two fishing holes for the kids complete with fishing rods, bait and a see through viewing area so you watch the little fish nibble at the end of the rod. The sun can be fierce in the afternoon. Hats and sunblock mandatory.
ROMPER ROOM Vancouver Island's premier indoor rock climbing facility. They have 7500 square feet of climbing surface and kids are welcome. Lessons are available and the environment is safe and friendly. 4358B Boban Drive, 751-ROCK (7625).


WATCH SOME SPORTS In the winter follow the action of Nanaimo Clippers at Frank Crane Arena or watch lacrosse with the Nanaimo Timberman. Vancouver Island Raiders football team play from May to August.
JUMPING JIMINY'S Nanaimo's biggest indoor playground and cafe. 'KIDS LOVE IT! Featuring over 8,000 square feet dedicated to family enjoyment, a giant 3000 square foot play structure, ping pong & air hockey tables, private party rooms, toddler section, an 80 seat cafe and more. Parents love it too! Enjoy a latte or cappuccino in the parents lounge and viewing area. If you're hungry our cafe also offers soups, panninis and foccacia sandwiches, as well as a few sinfully decadent desserts. #400 – 2980 Island Highway North at Rock City Centre, 729-0999.
We've presented a small cross section of the variety of fun activities for children and parents alike. There are hundreds of other great activities such as the Vancouver Island Exhibition, a local country fair which has been in existence for over 100 years. Nanaimo's wacky character is best identified with our annual Bathtub Race and Silly Boat contest. Held in the 3rd week of July, it's fun for the whole family.
You can rest assured that Nanaimo is a safe, kid-friendly community. Our city is small enough to be friendly, safe and personal but large enough to offer many amenties for young and old. See you soon!
Home | Getting Here | Adventures | Events | Dining | Accommodations | Kids | Nanaimo Bar Recipe | Links | Site Map | Contact Us