NANAIMO ADVENTURES
Nanaimo is all about outdoor adventure. From our hundreds of kilometres of hiking and biking trails, 200 hundred parks, 3 artificial reefs, oceanside setting, plethora of marinas, single track and BMX, climbing and hurling yourself off a 44 metre bridge, there is an activity for everyone. Sure we have indoor stuff to do but you've come all this way, why would you want to spend your time indoors? Well if you do, we've listed some of those too!
NANAIMO'S GREATEST OUTDOOR ADVENTURES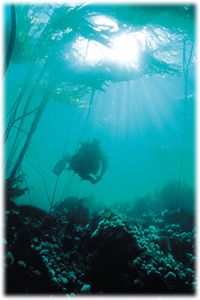 SCUBA DIVING Nanaimo is home to some of the best temperate water diving in the world. Known as the Emerald Sea, the waters off Vancouver Island have been hailed by Jacques Cousteau as his second favourite dive location in the world. In particular Nanaimo is blessed with 3 artificial reefs: Cape Breton, world's second largest artificial reef, Saskatchewan, British Columbia's most popular artificial reef and the RivTow Lion a shallower wreck training dive. Snake Island is home to the Cape Breton and Saskatchewan and an excellent wall dive popular with most underwater explorers. Nanaimo is also home to BC's second most popular dive, Dodd Narrows. This drift dive is exhilarating and provides a great environment to see it all! Come to Nanaimo to see our wolf eels, Giant Pacific octopus, nudibranchs, kelp, anemones and sponges. For more information and pricing visit Diving BC.com or call 1-877-282-6337.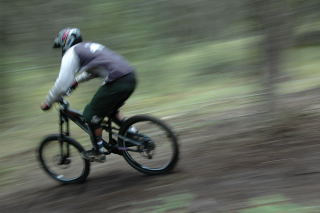 MOUNTAIN BIKING With at least 90 kilometres of trails just off Dumont Road, there is a ton of riding here. Tackle the Abyss or Humility rides. How about Mt. Benson's West Ridge Trails which range from 600 to 3200 feet. We've got logging roads, hydro lines and some serious hard core North Shore rides. Guests to Nanaimo can join up with the Nanaimo Mountain Bike Club for up to 3 rides before becoming a member. Most of their rides are cross-country, single track, which usually involves climbing in order to enjoy the downhill. Head to Pacific Rim Bicycles for more information and maps or call 250-390-2077.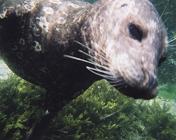 SNORKELING WITH THE SEALS Spend a few exciting hours snorkeling with up to 250 harbour seals that reside at Snake Island off Nanaimo! This is an accessible year-round adventure for all capable swimmers in your family aged 12 and over! It's sure to be the highlight of your Vancouver Island wilderness experience. Be prepared for a good frolic with the seals and some close encounters of the photography kind. These playful characters are as curious about you as you are about them! Tours leave in the mid afternoon and usually take 2 hours with 1 hour in the water.For more information and pricing visit Diving BC.com or call 1-877-282-6337.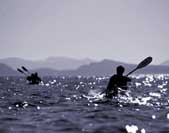 KAYAKING The Northern Gulf Islands comprise over 200 hundred islands, large and small. A perfect place to scoot around in a sea kayak and check out the little coves, tidal pools and sandstone galleries that make up our part of the world. Newcastle Island and the Dinghy Dock make a perfect leisurely day trip in a kayak. Paddle around the Island and then head over for a meal at the pub. Or paddle out to Snake Island and play around with the seals. Gabriola Island is home to the Malaspina Galleries, sandstone formations created by tidal erosion. Several companies operate out of Nanaimo and offer overnight trips, day trips, Full Moon Howls and Seafood Dinners. Sounds good doesn't it. Visit Alberni Outpost or call The Kayak Shack at (250) 753-3234.

WILD PLAY Want to get your adrenalin rushing? Come to the world-famous Wild Play Adventure Park, where you can bungy jump over the Nanaimo river, hit radical speeds on the ultimate swing or ride the high-speed zip line through the river canyon. These are adrenalin pumping, heart thumping high speed thrills that you can't afford to miss. You can bungee jump "classic style" or join the growing group of naked bungee jumpers that gather annually near Valentines Day to "let it all hang out" as they bungee jump in the buff to raise money for charity. You must at least go to Wild Play and watch the action. Ranked in 2006 by the National Post as 19th out of 100 things to do in Canada before you die, come to Nanaimo and vist Wild Play for an exhiliarating day of primal adventure.

WINERY TOURS Now we know that this is not a high adrenaline 'sport' but hey you are on vacation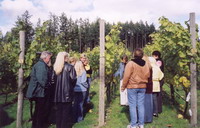 after all. The tour takes you to Cherry Point Vineyards and Hillary's Cheese Pointe Farm in the Cowichan Valley, less than 40 minutes from Nanaimo. Take a walking tour of the vineyard and then (this is the best part folks) taste a selection of wine in a newly renovated tasting room and patio with a West Coast Native design. After sampling, browse through the vineyard or relax on the patio. Afterwards you'll stop at Hillary's Cheese Farm to sample some of their great local cheeses. Visit Paula at Tracks Outdoor Adventures or call 1-877-848-8732.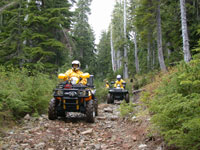 ATV'S Hop on that ATV and let's head for the hills! The view from the top is breathtaking and the ride up is sensational. Track n Trail ATV offers 2 and 4 hour tours as well as full day tours. Explore the back country of Nanaimo. Stop for a cool lake swim, do some fly fishing or hike into Ammonite Falls. Share with Jim & Karen some of the rugged wilderness of British Columbia's Coastal Mountain Range while on your comfortable and easy-to-operate All Terrain Vehicle (ATV).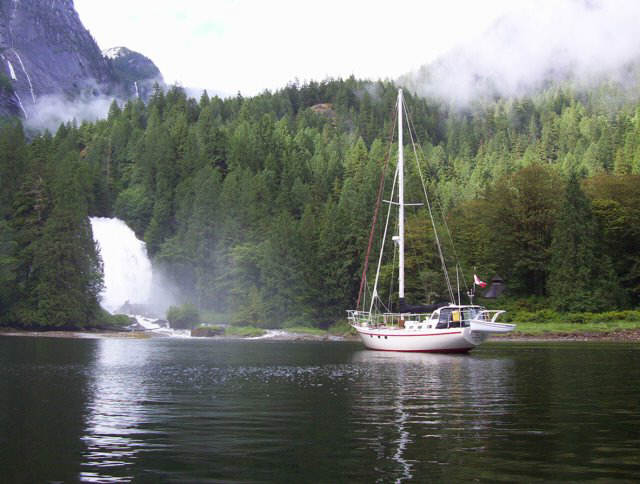 SAILING Spend a few days with Captain Bill on the Takuli III in and around Nanaimo, Georgia Strait and the Gulf Islands. Visit coastal communities and share their arts, crafts and culture. View rich ecosystems and diverse wildlife against a backdrop of incredible scenery. Explore the shoreline at leisure in our double kayak or rowing dinghy. Anchor in quiet bays at night and enjoy healthy, delicious food. Or skipper your own sail or power boat from Nanaimo Yacht Charters as long as you're qualified!

NANAIMO'S GREATEST INDOOR ADVENTURES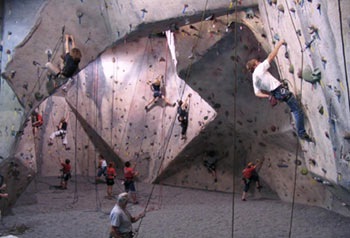 ROCK CLIMBING Too wet outside, well climb inside! The Romper Room Indoor Climbing Center is a state of the art climbing facility with over 7,500 square feet of climbing surface.The many different climbing angles, from gentle slabs to a huge overhanging lead cave, provide something for everyone. The dedicated bouldering cave has hundreds of problems to work both your body and imagination. Why go climbing? Some people climb for the exercise or simply because they like to wear a tight harness and pointy rubber shoes. Whatever the reason, climbing is a satisfying sport that is never dull, so come on and give it a try!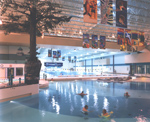 NANAIMO AQUATIC CENTRE This has to be one of the best aquatic centres in Canada. Olympic size swimming pool with a moveable floor (to accommodate wheelchairs), 3 water slides, wave pool, fishing boat for the young ones, steam room, sauna and a huge hot tub! An absolute must especially on those rainy days of winter. The facility also has a swimsuit shop in case you forgot yours, a restaurant, gym and physiotherapist office. Lockers are available but make sure you get a token at the front desk. For a better idea of the facility, take a virtual tour of the Aquatic Centre